Charlotte Lucas, a literary young lady with a literary name. Charlotte writes well, thinks well, reads well, and is kind. She's unassuming and on the quiet side, but when you get her sharing a thought on paper or aloud, whether with the whole group or in a pair, prepare to be impressed. She's recommending a book that seems very much like her: sweet and deep and funny.
"Despite the tumor-shrinking medical miracle that has bought her a few years, Hazel has never been anything but terminal, her final chapter inscribed upon diagnosis. But when a gorgeous plot twist named Augustus Waters suddenly appears at Cancer Kid Support Group, Hazel's story is about to be completely rewritten. Insightful, bold, irreverent, and raw, The Fault in Our Stars is award-winning-author John Green's most ambitious and heartbreaking work yet, brilliantly exploring the funny, thrilling, and tragic business of being alive and in love."                — Amazon
Every child deserves to read a book of truth like The Fault In Our Stars by John Green.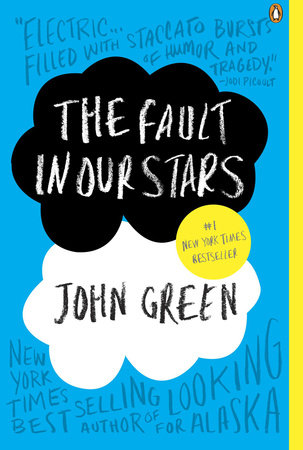 The Fault In Our Stars is about a girl named Hazel coping with her inevitable death. She's lost her childhood from her battle of cancer, she takes college courses at the age 16, and doesn't have any close friends. I truly recommend this book because in American culture it isn't normal to talk about cancer and death so openly. Through Hazel's perspective the reader finds a new way to think about live. This book is known to slowly mesmerize you with the live performance inside your head. It's astounding to say that some teenagers don't like this book because it is so open about topics that have a stigma surrounding them. Reality is always there, and hating or avoiding what you don't like won't make it go away. Teenagers that are staying with the comfortable topics aren't doing any favor to themselves, and the story of Hazel and Augustus is one you can take with you for the rest of your lives. Hazel is a human and she wants to live, even if it may not be presented that way in some parts of the book. The last reason I'd recommend this book it because it isn't just a drama like it is sometimes advertised. Adventure, comedy, and romance are very pivotal, and balance the tone of the story throughout the book. This way, there's something to enjoy for everyone. The best type of reader for this book is someone who can deal the pain of stories without becoming upset, but also needs the closure at the end of the tale. People develop this as they get older, so I would say you should be around twelve. Though there are some moments that are inappropriate for younger children, sometimes it's very heavy on romance and drama. In my opinion, everyone should read The Fault In Our Stars to get another perspective on life as we know it. Yes, there is a fault in everyone's stars, but it is shown that we are not the fault in them.